Burgess Excel Chinchilla Nuggets 1.5kg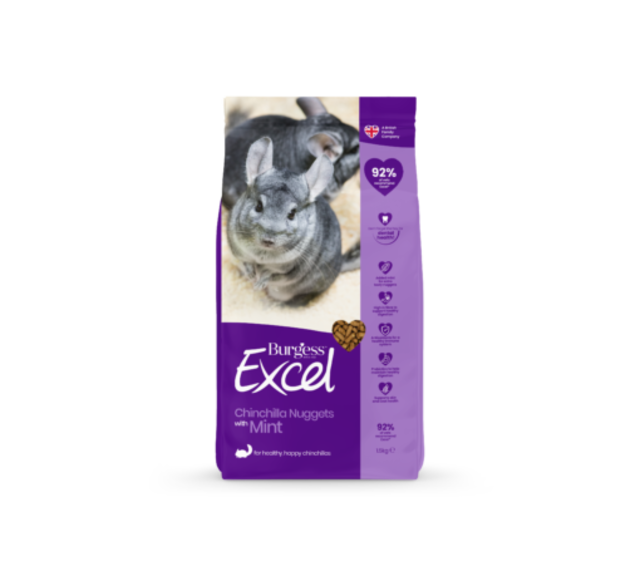 Description:
A delicious, complementary food for chinchillas that is high in fibre and rich in vitamins & nutrients to help keep them in tip top health.

Naturally high in Beneficial Fibre (36%)
Prevents selective feeding
Vitamin C for healthy skin, coat and gums
Vitamin A to maintain healthy eyesight
Vitamin E to maintain a healthy immune system
Ingredients: wheat, Lucerne, soyabean hulls, oatfeed, hipro soya, peas, wheat feed, brewers yeast, soya oil, mint (1.25%),arbocel, dicalcium phosphate, salt, limestone, monocalcium phosphate, short chain fructooligosaccharides (0.2%).

Nutritional Additives: vitamin A 30,000 iu/kg, vitamin D3 3,500 iu/kg, vitamin E 140mg/kg, vitamin C 825 mg/kg, copper sulphate pentahydrate (E4) 30mg/kg, Iodine 1.17mg/kg, sodium selenite 0.67 mg/kg, ferrous sulphate monohydrate 200 mg/kg, manganese sulphate monohydrate 187.5 mg/kg, zinc sulphate monohydrate 257.1 mg/kg, and DL-methionine 1,240 mg/kg.
Crude Protein 17%, Beneficial Fibre 31%, crude oils and fats 4%, crude fibre 16%, crude ash 6.5%.

Feeding guide: Feed an egg cup full of Nuggets each day. Remember that good quality hay and/or grass should make up the majority of your chinchillas' diet and should be available at all times. Chinchillas should also be fed a small amount of leafy greens each day. Please talk to your vet for further information.

If you are currently feeding a muesli style food to your chinchillas you should gradually transfer your pets onto a hay and nugget based feeding plan over a period of between 14 and 28 days, by gradually reducing the amount of muesli and increasing the proportion of nuggets until they have completely replaced the mix.

Always ensure you are monitoring your chinchillas' weight to ensure a healthy weight.

Always ensure fresh clean water is available for your chinchillas.
View your shopping basket or browse other items.
Other products you might be interested in