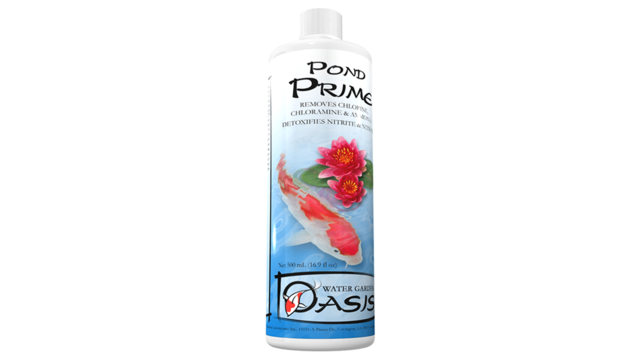 Pond Prime' is a complete conditioner that removes chlorine, chloramine, and detoxifies ammonia and nitrite. It also provides essential ions and stimulates natural slime coat. Pond Prime' also enhances nitrate removal. It will also detoxify any heavy metals found in the tap water at typical concentration levels. It should be the first choice conditioner when setting up a new pond, adding, or changing water. No other product is required to make water safe, even in high chloramine situations. Unlike competing products, Pond Prime' does not cause a pH drop or overactivate skimmers. A 500 mL bottle treats over 10,000 US gallons, much more than competing products.

FAQs
Q: I think that my Prime' might be old because it smells like it went bad.
A: Prime' has a very distinct odour that is similar to sulfur which is completely normal.

Q: I noticed some small black specks in the bottom of my bottle of Prime'. Is it still good?
A: The presence of small black specks occasionally occurs and is normal.
View your shopping basket or browse other items.
Other products you might be interested in