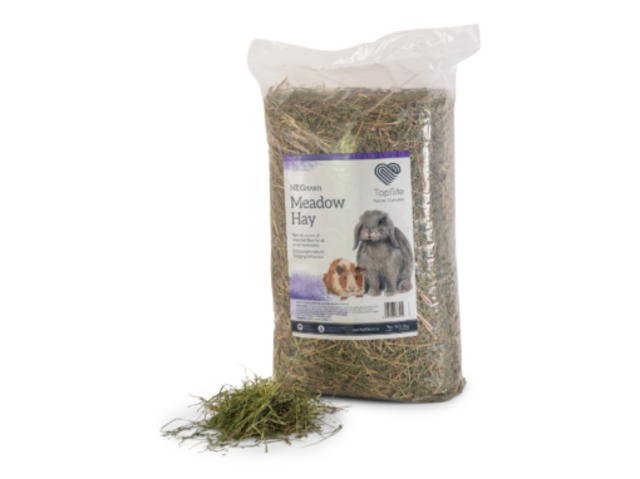 As a delicious source of essential fibre Meadow Hay not only helps digestive and dental health but also encourages natural foraging in your furry friends.

Made up of rich clover and nutritious grasses, our fragrant Meadow Hay is ideal for a wide range of animals, including rabbits, guinea pigs, chinchillas and other small pet feeding. This Meadow Hay is also carefully grown then moisture-tested for corrects levels before being packed. So when you purchase this NZ-grown hay you know you'll be getting on the best in clean, high quality product.

1: Suitable for rabbits, guinea pigs, chinchilla and other small pets

2: Natural source of essential fibre that encourages natural foraging behaviour

3: Packed in compressed 1kg bags, 12L that expands to 50L when opened

4: Proudly New Zealand grown

Meadow Hay feeding guide: First, make sure there's always fresh water available. 75% of your herbivore's diet should consist of good quality hay and they'll need to eat approximately a portion of hay equal to the size of its body each day (please note: this dietary approach is only recommended for herbivores ' although you might want to attempt it on Christmas Day). Feed Meadow Hay to your rabbit or guinea pig alongside a good quality pellet or nugget plus the occasional chew treat.

Storage: Treat your Meadow Hay like a handsome brooding vampire from Twilight ' avoid direct sunlight / keep it dry / keep it cool.

Ingredients: Pure New Zealand Meadow Hay.
View your shopping basket or browse other items.
Other products you might be interested in